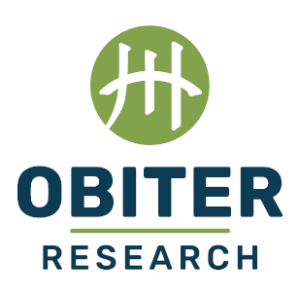 What's with the change of Obiter's logo?
Obiter Research is an American company, and we employ qualified people from all around the world. We are incorporated in the State of Illinois.  The change in logo reflects a fundamental change in our company, and thereby hangs a tale.
In the late 1990's, AMRI went public, with me owning 5% of it.  This corresponded to a lot of money, so I retired to Champaign, Illinois at the age of 48.  I initially wanted to teach process chemistry at UIUC, but I found a lot of roadblocks with this idea.   I found it easier to simply set up a teaching company.  The premise was simple; in return for a few year's paid labor, my employees would be trained up in kiloscale chemistry to enable them for a better career.  I named the company "Obiter Research"; loosely translated from Latin, Obiter might mean "off the beaten Path".  If you look at our original logo, it is indeed a path swirling from this way to that.
Over the years, we have had many employees come through, get trained up, then go on to much better positions in other companies, such as directors, managers, government officials, and academics. With time, I discovered two flaws in my original premise:  1.  The design means a high turnover rate, so it is difficult to retain experienced people to sustain the company and 2.  As a CRO, we are stuck in a high-risk/low margin kind of work, which makes it difficult to prosper.  About five years ago, we changed our model to include manufacturing on the kiloscale.  Manufacturing has the important advantage of knowing that things will work and how to go about it, resulting in much better margins and greater sums of income. This gives a much more stable company, with CRO work to identify potential products, and CMO work to exploit them.   As a CMO, we handle manufacturing of very high value materials, such as trimethylene carbonate, cannabinoid intermediates, specialty dyes, certain crown ethers, and others.  With manufacturing, we can no longer afford to have a high turnover rate amongst our employees, as we have to establish the core talent that stays and runs the company; it has gotten far too big for me to be on top of everything going on.  Recently, we have been able to identify a number of very talented individuals in various departments of Obiter, especially Jen Zhang, our COO.  Jen came to us as a bench chemist three years ago, having received her PhD degree from the University of Mississippi.  She quickly rose through the ranks, having shown exceptional talent for chemistry, management, and entrepreneurship.  She is our version of Steve Jobs.  Jen is now a Partner in the Company, and runs all operations that make money.  We are looking to build a team that will carry us on to the next generation of the company.
One of the unique features of Obiter Research that allows us to succeed where others fail, is that we marry engineering with the chemistry to solve the process problems.  As Jen has come on, we realized that although we have been around for twenty years, now, only recently do we have what it takes to build a much larger, more diverse, company. This is due to our kernel of talent and our widened business model.  Our goal is to grow the business greatly, especially in manufacturing. We want to provide things that no one else can.  Our original mission of just being a little different is no longer valid; we want to tackle mountains, and build bridges.  Although simplistic in design, our newly adopted symbol now reflects that goal; it is the Chinese symbol for a bridge across the mountains.  It should come as no surprise that a determined woman from Shanghai would come up with it.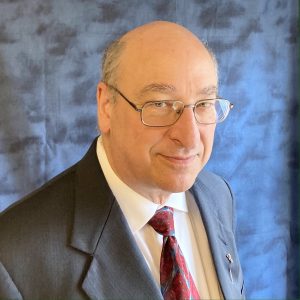 Dr. William Boulanger
CEO and Executive chemist